FCOSS calls for collaborative approach to combat corruption
4 December, 2018, 9:32 am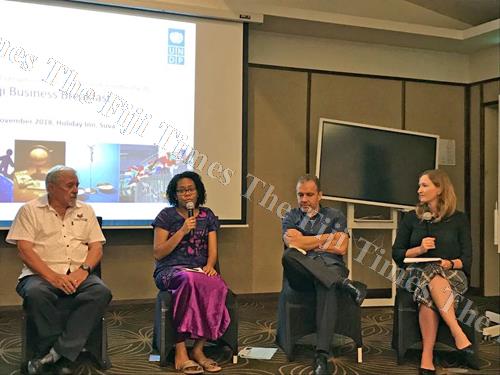 FIJI Council of Social Services (FCOSS) executive director Vani Catanasiga has urged businesses to work with non-government organisations (NGOs) on developing local tools for combatting corruption.
Ms Catanasiga made the comments during a Business Breakfast organised by the Pacific Islands Private Sector Organisation (PIPSO) last week.
"The engagement of youth networks in the fight against corruption in Fiji indicates their care and concern for their communities and the future they will inherit," Ms Catanasiga said.
"This must compel current leaders to work and lead with integrity and ensure a united approach to eradicating corruption across all sectors of society."
"As civil society organisations — businesses and NGO's can learn from how these informal youth networks are organised.
"One is their ability to leverage their relational networks to advocate and lobby on anti-corruption with little to no funding support, second is their use of social media to demand accountability and transparency and advocate for change."
She said aspects of Pacific culture such as wantokism and veiwekani often cop the blame for corruption.
"I think there are ways in which we can use this to promote integrity and accountability across sectors.
"This is relationality and is being used quite well in sports so there is room for businesses and NGOs to explore its effectiveness as a tool to collaborate in our sectors."
Ms Catanasiga said a united and co-ordinated approach to ridding corruption from Fijian society will be more effective and support the generation's hope for a better future so the theme for this international Anti-Corruption Day could not be more timely.
"The theme United Against Corruption for Development, Peace and Security recognises that corruption is a key structural impediment to effective development, sustainable peace and security," she said. International Anti-Corruption Day is commemorated annually on December 9.
FCOSS is partnering with the United Nations Pacific Regional Anti-Corruption (UNPRAC) Project to organise an International Anti-Corruption Day Panel Discussion in Lautoka next week.