Family dreams gone with the wind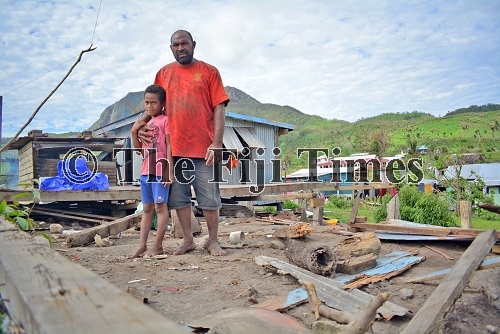 Jone Yaqona said when Tropical Cyclone Harold destroyed his house on April 8, the Category 4 storm also destroyed his family's dreams.
It took away everything they had worked so hard to achieve — a cosy home, a shelter from the elements and the culmination of years of sacrifice.
The Nabukelevu-i-ra, Kadavu farmer said he was uncertain of what the future would hold for him and his young family.
Mr Yaqona said one of the biggest heartbreaking moments of his life was helplessly watching years of hard work and sacrifice being demolished in minutes.
"Harold took everything from us and we now have to start from scratch," the 54-year-old said.
To add salt to the wound, the yaqona he was counting on to finance the rebuilding of their house had also been destroyed by Harold.
"I solely depend on my yaqona because that is the only means of survival for my family, but now I really don't know what to do."
When this newspaper visited Nabukelevu-i-ra yesterday, Mr Yaqona and his family were sheltering in a small corrugated iron house.
"I will work extra hard to try and secure the future of my kids and my family because I don't want them to continue living in this temporary house."
Mr Yaqona said one of his biggest concerns was the education of his children. "I don't know how my children will go to school because all their stationery were destroyed."