Editorial comment: Switched on
23 January, 2022, 1:42 pm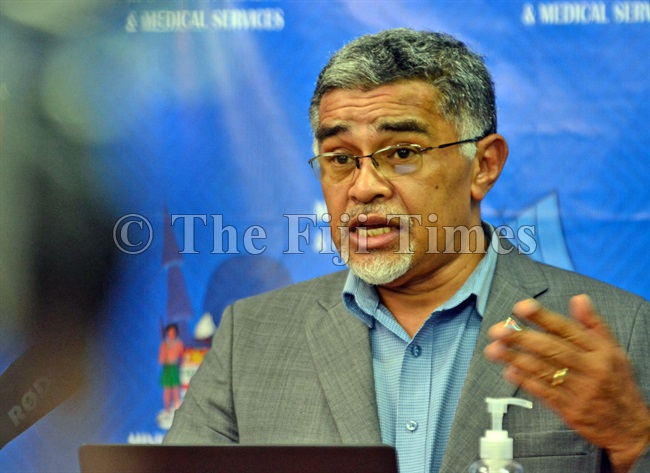 Health Ministry permanent secretary Dr James Fong has made it clear that anyone who is in the high-risk group and develops any COVID-19 symptoms is strongly advised to get tested.
He said 16 deaths were recorded from the period December 28, 2021, to January 20, 2022, with 12 deaths reported in the Northern Division, two in the Central Division, and two in the Western Division.
The Northern Division deaths, he noted, from December 2021 to mid-January 2022 were being reported now because of a delay in the issuance of Medical Cause of Death certificates.
All, he said, were at higher risk of severe disease due to their ages or underlying medical conditions.
Of the cases, 14 who died were not vaccinated, while two were fully vaccinated.
These were people, he said, who were over the age of 50 or had significant underlying medical conditions (non-communicable disease). "And even more sadly, 14 of the people who died were not vaccinated," he noted.
The presence of two or more NCDs such as heart disease, kidney disease, diabetes, obesity and hypertension, he said, at the same time, had been a predominant contributor to severe outcomes in all the waves of COVID-19 in Fiji. These are obviously serious issues that need to be addressed.
We are reminded about the need for us all to be aware of symptoms, and what must be done when we develop them.
We are also reminded about the fact that the virus is still around. We can never be complacent. We can never shrug aside the virus and think it will just go away if we do not think about it.
It won't. We are reminded about what to do, and why we must strictly adhere to every COVID-19 safety protocol.
At the end of the day, we still have to be mindful of the dangers the virus presents, and the fact that people are dying.
We are reminded about the fact that people are getting sick and many are in isolation at home.
The fast-spreading Omicron variant is dangerous. We know that. So when it comes to push and shove, we have to be vigilant. We have to be very careful and be mindful of what we are doing around our loved ones.
Perhaps we should see this latest revelation as an apt reminder for us all to be switched on.
A lot depends on us doing the right thing. In fact our economy, and every suffering Fijian depends on every individual doing the right thing.