Editorial comment – Support for Australian bushfire victims
10 January, 2020, 8:10 am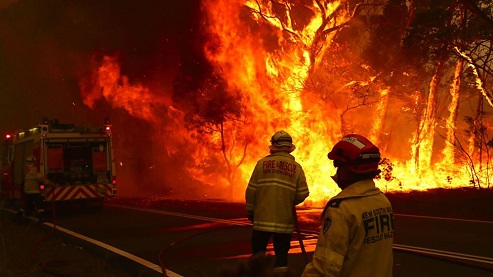 IT'S difficult to put into words the destruction caused by the raging Australian bushfires.
It's unprecedented. Lives have been lost.
Homes have been destroyed and families left in near disarray.
Wildlife has been affected with thousands of animals killed by the raging flames.
Beautiful and rich bushland have been destroyed in large parts of the Australian outback.
The fires are now threatening urban centres, sending frightened residents fleeing for their lives.
When we talk about death and destruction, the Australian bushfires will inch out emotional responses for many reasons.
Families have been torn apart.
There have been many scenes of emotions, and wildlife have perished in the frightening flames, with nowhere to escape.
There have been many tales of heroics, love, and consideration for the welfare of others.
Many sacrifices have been made and some have made the ultimate sacrifice.
In the face of the devastation, the fight continues to bring about some semblance of order for the Australian people.
We sit here in Fiji, in our own little worlds, oblivious to the fear, destruction and death the Australian people are facing.
In our own little world, we have a sense of security and wellbeing. This is how life is supposed to be.
This is what we expect in life.
Our close neighbours are feeling the brunt of the bushfires. Many of them have their backs to the wall.
But there is hope. Hope can be a very powerful incentive for people.
In the spirit of giving back to affected Australians, organisers of the Fiji 4 Australia Fire Concert on January 25 in Suva are calling for support.
Speaking during the concert's launch, Fiji Performing Rights Association board member and local artist Seru Serevi said the concert would be held at Ratu Sukuna Park. Serevi said 14 bands were expected to perform and the concert was open to the public.
He said it was organised by the Fiji Performing Rights Association in partnership with STAGE TECH and the Suva City Council.
This is just one of many events being organised in support of the Australians.
We also acknowledge the work that continues behind the scene, and thank the firefighters who are fighting the bushfires.
They are all brave men and women who continue to face their fears daily, to bring about some order in their country.
We also acknowledge the firefighters from other countries who have travelled to Australia to support their counterparts.
We hope and pray that the Australian people will find some peace in these very difficult times and that any assistance will meet their needs.