Editorial comment – Stage set for NRC semi-final
15 October, 2018, 9:22 am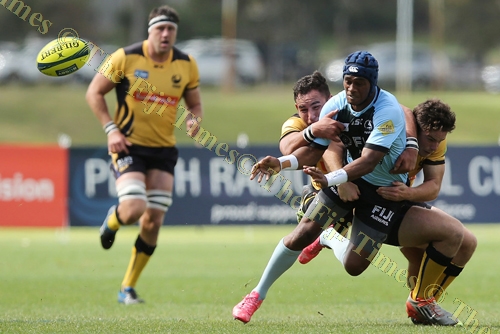 THE stage is set for what is building up to be an exciting semi-final of the National Rugby Championship this weekend.
The Fiji Drua defeated hot favourites the Force 33-28 in the final round robin fixture on Saturday.
The win catapulted the Drua to the top of the points table.
They claimed the Horan-Little Shield for their achievement.
This week, attention is firmly on improving ball possession ahead of the semi-finals. We are scheduled to take on the might of the Canberra Vikings at Churchill Park in Lautoka on Saturday.
Last weekend, we were down 14-7 at half time but got back into the game in the second spell to snatch victory.
While the win and home semi-final were the targets, coach Senirusi Seruvakula expressed disappointment with the high error rate.
Seruvakula said there were many errors from the start which created problems for the Drua, especially in defence.
We cast aside a set game plan which was focused on our set pieces. It almost cost us dearly.
We lost possession, our scrum was ineffective in the first spell and we were stretched to the wire in defence. Seruvakula felt our defence was shaky at times through poor communication.
Canberra Vikings defeated Brisbane City 13-10 to claim the fourth semi-final spot.
The Drua beat the Vikings 40-35 in Lautoka on October 6.
In that match, we ran off to a 33-14 half time lead but allowed the Vikings to come back and take the lead at 35-33 before Levani Kurumudu sealed the game for us.
And we were playing with 14 men in the final stages of the game.
If there is one standout factor that Seruvakula will have to positively address, it will have to be discipline. We have proven that we have what it takes to rock the cart so to speak.
We are able to mix it with the big boys of the sport. Our local players are meeting standards, and reaching out for top performances.
The critical element left now is to maintain discipline, sustain pressure and stay composed.
The Vikings are laced with Brumbies Super Rugby players and has Australian born Fijian Rob Valetini who Australian rugby pundits say is a potential Wallabies loose forward.
The Drua is on fire.
Two targets have been achieved. We won our final fixture and set up a home semi-final.
The challenge now is to get out on the field this weekend, and play the game of our lives, and secure a final spot.
Our Drua will need the support of the masses.
They will need us to inspire them to reach out for the stars and come clean against a team that will be no push- over.
Go Drua, go.