Editorial comment – Part of the global community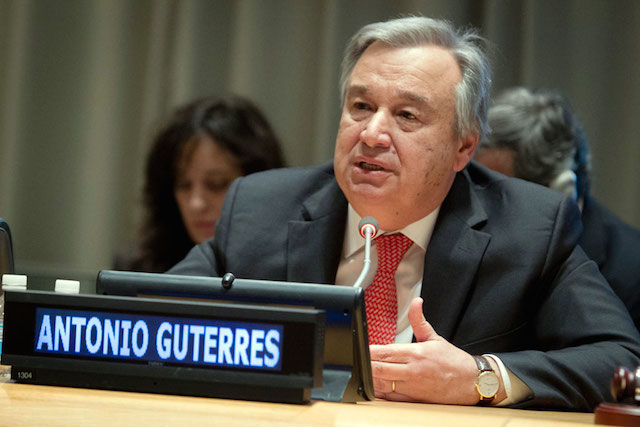 THE announcement that UN Secretary-General Antonio Guterres is heading to Fiji for the first time, to meet Pacific leaders next week, will be met with great interest.
It's the second time a sitting UN Secretary-General will meet Pacific Islands Forum Leaders in the region.
The first was in New Zealand in 2011.
Pacific Islands Forum Secretariat Secretary-General Dame Meg Taylor confirmed the visit during a briefing for Pacific journalists on Monday.
Yesterday, forum chair and President of Nauru Baron Waqa confirmed Mr Guterres would join Pacific Islands Forum Leaders for a historic high-level dialogue at the secretariat headquarters in Suva.
For the Pacific, he said, climate change was not a debate or a policy question.
"It is right that the UN Secretary-General is coming to our region to prepare for his summit (at the UN in September). I know he appreciates the seriousness of the issue and understands the countries and people of the Blue Pacific are facing an existential threat not tomorrow, but today," he is quoted saying.
Our call for urgent global action on climate change, he said, must be strong, and clear.
The leaders' session with Mr Guterres on May 15 will be followed by country visits to Tuvalu and Vanuatu.
They are part of the build-up to the United Nations Climate Action Summit in September.
It is interesting that Mr Guterres has plans to visit Fiji.
It comes in the wake of visits by other powerful international figures such as India's Prime Minister Narendra Modi and Chinese President Xi Jinping in 2014, followed by the visit by Prince Harry and Meghan Markle last year, and by Australian PM Scott Morrison in January this year.
It is not every day that we get to welcome such powerful and well known international figures here.
Among other things, they shift the focus of the world here.
The visit next week by Mr Guterres sets the base for what is expected to be a memorable week.
There is great hope the high-level talks may have a positive impact on our country and the region.
How we engage in these discussions will be keenly anticipated.
The average man and woman on the street will look to bread and butter issues because they tug at the heartstrings.
That is one reality of life.
But they will instinctively bank on the powers that be to make commitments that will be fruitful and in the national and regional interest.
Our PM Voreqe Bainimarama has played a leading role in the fight against climate change.
So we are actually well placed on the global front when it comes to discussing the topic.
What happens next week is a significant event for the region and signals attention on our predicament in the face of changes to the environment around us.
It is another opportunity for us to highlight our plight to the global audience.
How we reciprocate via our actions, and what this visit means to us as a nation in the global community will obviously be watched with great interest.