Editorial Comment – Election countdown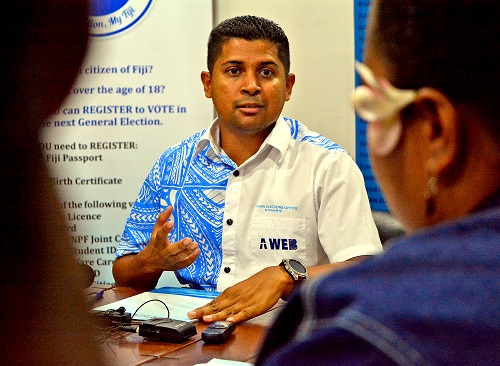 THE announcement by the Fijian Elections Offi ce that it would start another overseas voter registration drive next month is interesting.
Supervisor of Elections Mohammed Saneem confirmed this and said the registration drive would continue until a writ of election was issued.
In the event the writ was issued while the team was overseas, Mr Saneem said, it would cease registration immediately and teams would return to Fiji.
He said the registration teams would visit Australia, New Zealand and the United States of America between June 15 and June 30.
Mr Saneem said a valid Fijian passport must be produced as this was a mandatory requirement for registration.
He said during the last overseas registration drive, the FEO team provided services to 2900 voters overseas, including 696 new registrations.
After the writ of election is issued, there is a 14- day period for nomination.
Polling commences no later than 30 days after the last day for the receipt of nominations.
Clearly we are heading into what will be a very interesting period this year.
There is excitement and great anticipation in the air.
It is clear that political parties are gearing up for the polls.
It is encouraging to see the FEO playing its part in paving the way to our 2018 election. It seems the battle lines are drawn as parties pick up the tempo.
Obviously there will be differing views on issues affecting the country. It is interesting to note this on the national front now playing out before us all.
But that's politics for you.
While there is no clear direction set for an election date, it does not mean we do nothing.
The onus now is really on the voter to lap up as much information as possible.
Perhaps we have an opportunity to be aware of the various views on offer.
The lead-up work ideally should culminate in an election that allows every voter to make an informed choice on poll day.
What we have now is a scenario that should culminate with voters marching into polling centres and making that choice.