Editorial comment – Concern over drugs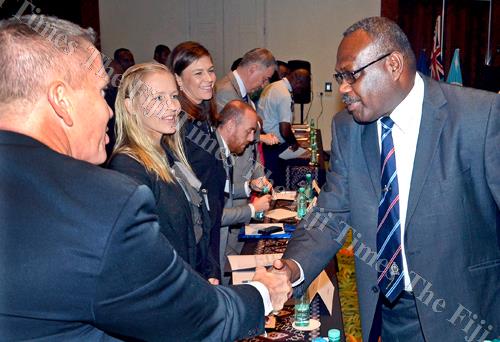 It is a concern that police have confirmed they are wary of small-scale overnight labs used to manufacture methamphetamine in the country.
Acting Commissioner of Police Rusiate Tudravu confirmed small-scale producers had also been arrested in recent weeks with regards to meth production.
Police, he said, were worried about "the small, overnight labs that people are using".
There were a lot of arrests on meth recently of small-scale producers, he said.
Fiji, he said, had recorded an increase in the domestic availability of methamphetamine.
While on a smaller scale, he said, the seizures made to date warranted the need to strengthen intelligence gathering between local and international agencies.
While he could not confirm the value of the meth industry, agencies, he said, needed to be aware of the possible movement of the illicit substances across borders via sea and air.
ACP Tudravu was in Nadi yesterday for the opening of the International Criminal Police Organisation's Criminal Network (Drug, Financial, Security Document Examination) Training.
Jan Drapal, a criminal intelligence officer with the INTERPOL Criminal Networks Sub-Directorate, said drug trafficking was a serious issue.
Drugs, he said, were always connected to money, and money motivated people to smuggle drugs and other crimes.
The issue obviously is serious judging by the discussion at the top level.
In June last year, the then Education Minister Dr Mahendra Reddy had urged Fijians to mobilise to protect our children. Addressing students, teachers and parents at the opening of International Day against Drug Abuse and Illicit Trafficking at Kalabu Primary in Nasinu that month, Dr Reddy emphasised child protection.
While drug abuse has been in existence, he said, the worrying trend was that it was slowly stretching its tentacles towards our children.
Dr Reddy stressed the role of parents in the campaign.
According to the ministry's website, cigarette smoking topped the list of drug and substance abuse cases recorded in schools the previous year.
We will have to accept that we all have a stake in the drug war. The question is where we sit and whether it is against or for drugs.
We have a responsibility to uphold important values that make life what it is in Fiji.
We can either be part of the initiative to create awareness about the place consumption of illicit drugs should have in society, or be a part of helping it thrive.
Drugs are a part of our lives.
The drug trade is lucrative and has clothed and fed many who harbour no second thoughts about its harmful effects on users and their dependents.
To survive, traders have had to come up with innovative ways to do business as police efforts rise.
As the force targets dealers who are constantly adapting to their various methods of detection, it needs the support and encouragement of members of the public.
Awareness starts at home.
It is important that we place some value on what is acceptable and what is not.
Let us be realistic and advocate approaches that are conducive to fostering open and honest discussions.