Editorial comment – Challenging the law
10 November, 2019, 8:03 am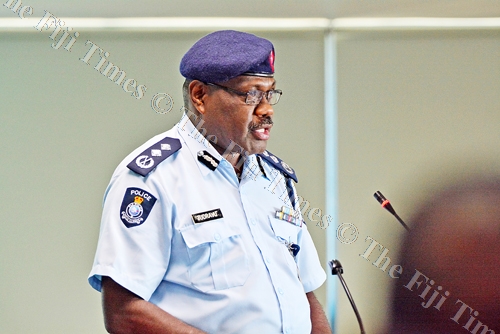 YESTERDAY Acting Commissioner of Police Rusiate Tudravu was again forced to issue a stern warning that attacks and threats to his officers would not be taken lightly.
He initially sounded the warning after four people were taken into custody in two separate cases last month.
The warning was issued again after three people were arrested between Friday and yesterday for allegedly attacking police officers on duty.
Police confirmed a man entered the Cunningham Community Post at 3am yesterday and attacked the police constable on duty with an axe.
He was arrested and the officer was unharmed.
In a separate incident, a 52-year-old taxidriver from Oloolo in Sigatoka was taken into custody for allegedly threatening a police officer who was conducting a booking for illegal parking in Sigatoka.
"The police constable saw the suspect's taxi allegedly parked illegally and while in the process of issuing a ticket, he allegedly, out of frustration, uttered the words to the effect that the killing of the police officer in Lautoka can also happen to the officer in Sigatoka and that he better watch out," a statement from police read.
In the third incident, a 29-year-old man of Vuci Rd outside Nausori was arrested by police after allegedly assaulting an officer during an arrest.
"The suspect was brought into the station for an alleged case of drugs and while being searched had tried to escape when he was stopped by the police constable. In the process the suspect allegedly assaulted the officer causing injuries to his face."
Mr Tudravu said it was fortunate that no officer was seriously injured or killed, as this was the reality of policing where officers were risking their lives every day and night.
It's a concern that this is happening in our country.
Mr Tudravu said a number of officers had been attacked from January to September while doing their duty.
Three youths were taken into custody in Nadi last month after they threatened a patrol car team at Namotomoto.
When told to clear the area, the three allegedly threatened the officers, saying they would be killed, similar to how their comrade was killed in Lautoka. A backup team was called in and the three were arrested.
In another case last month, a police officer was assaulted outside the Grantham Plaza Community Police Post while attending to a report.
The challenge our force faces is upholding the law.
It isn't a line of work for the faint-hearted.
The rise in sale and use of illicit drugs coupled with its production right here at home offer a frightening reality for our policemen and women.
But this is when they must be well versed with the law.
This is when they must be beyond reproach, and vigilant.
This is when they must value their work, and appreciate the power they can wield in the execution of their work.
This is also when we, as law-abiding citizens, must provide that vital support base.
These structures will be effective when we learn to appreciate the important role our police force plays in Fiji, to uphold law and order, and to provide the base for Fijians to live in peace and harmony.
There is an urgent need though for us to understand why people are now challenging the authority of the police force.
Perhaps we may just discover something that needs fixing urgently.