Driven by destiny
16 November, 2018, 10:10 am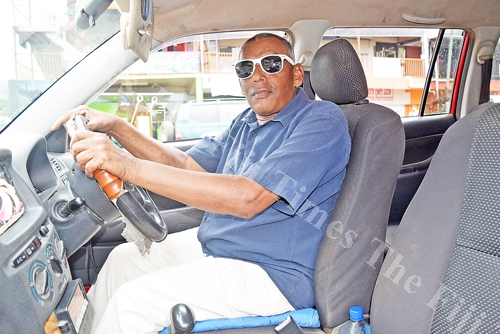 TAVEUNI taxidriver whom everyone calls "Sonny", travelled to the island for the first time in 1973 to visit an aunt.
That visit changed his destiny. By 1979, he had made up his mind, left his home in Savusavu to settle on the Garden Island.
That was about 40 years ago and to date Sonny Narend has never regretted making that brave decision.
"One good thing came out of my decision to move to Taveuni and that was meeting and getting married to Theresa my wife," Sonny said.
The couple have five children.
Sonny has been a taxidriver on the island for more than 20 years and there is no place on the island that he does not know.
Very often people would acknowledge his presence on the road by shouting out his name when walking or driving past.
"After getting married, I converted to Christianity. I became a Catholic because my wife was one and I just wanted to make our life easy. Married life would have been a challenge if we belonged to different religions," he said.
Theresa's family worked for the Catholic Mission in Wairiki so Sonny worked there too for many years until he decided to become a taxidriver.
"Being a taxidriver can be a very rewarding job because you get to meet different people each day, interact with them and hear their stories. I've never had a dull moment," he said.
Sonny added the most famous person he had met while working was the late Archbishop Petero Mataca.
"Many years ago, I was asked by a priest at the mission in Wairiki to drive the archbishop around during one of his visits to the island. "I couldn't believe my ears as I was so excited by the thought of transporting such a high ranking church official.
"That was one of the happiest and most memorable days of my life."
Sonny drove the archbishop from Wairiki to Navakawau in the district of Vuna, at the southern end of Taveuni.
"He didn't talk much on the way. In fact, we hardly spoke but when it was time to socialise after the trip he told a lot of old and interesting stories.
"He seemed like a very nice person, was very humble and down to earth."
The 59-year-old said he had never driven any more famous person after that day with the cleric.
To ensure he supports his family well, Sonny works six days a week only taking a break on Sundays and attends mass and spends time with his family. By 6am each day, he is on the road and doesn't park his taxi until six in the afternoon.
"I love my job because there's always something new every day and there's no better place to be than Taveuni."
"When I came here 45 years ago, I hardly knew anybody. Now I know a lot of people and some of them have become part of my family."
"Although I am from Savusavu, I feel Taveuni is the best place to be. It is very beautiful, peaceful and the people are nice."