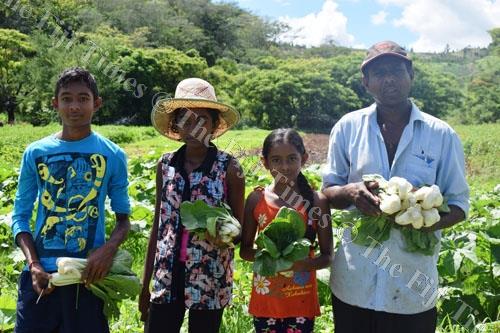 SUCCESS is so much sweeter when earned through determination and one's own drive and hard work.
Sushil Chand attests to this, as more than two decades ago, when as a 17-year-old, initiated his endeavour to success by taking up the challenge of becoming a farmer.
Unlike most young men his age, who then had opted to leave farming and depart to carve out their niches in the fast-paced life of the city, Sushil had a different belief and resolve; one in which farming was an integral part where he nurtured his path to success through his own efforts.
The now 42-year-old of Tavarau, Ba, who dropped out of school in 1993, had decided earlier on that farming was his future because he was certain to his commitment to assist his parents on their farm and to work his way up from there.
"It has been about 20 years now since I have been farming after I left school after completing Form Five, after which I joined my parents on their farm," he said.
"I was still about 22 years old when I became a full-time farmer. I worked on a cane farm for some time after leaving school but later on moved to vegetable farming.
"I was single at that time when I started farming with my parents and at the age of 22, I was managing very well by myself at that time and after getting married when I was 24.
"I had a good supporter — my wife, who started helping me on the farm," Sushil said.
Sushil also had some challenges to face but resources were not one of them but he had to prove to himself that his decision to venture into farming at an early stage was the correct one.
"The reason why I took up farming was that we had the land and I had an interest in farming apart from other jobs as I thought to use this resource which was the land," he said.
"I used to work on my grandfather's land for about 15 years where I did farming on my own after which I bought my own piece of land at the age of 35," he continued.
After acquiring some land in Tavarau, Sushil started with one crop before he diversified into other crops.
"I started farming on my own half acre land with just cabbage, which worked really well for me as I just supplied cabbage to the market every Sunday.
"After a while, I slowly started to clear up other parts of my five-acre land and started planting other crops and vegetables with the help of my wife and slowly as time went by, I managed to build our house only from the sale of vegetables," he said with a smile.
The seasoned farmer has no regrets and is proud of being a successful one through the faithful support of his loving wife and children. Sushil says farming is unique as it entails a lot of trial and error.
"Farming is a job like no other, everything depends on your own choice, what type of farming you want to pursue as you will be expected to try your hand at something and hope it works out as there will be no one to instruct you on what to do and what not to do," Sushil said.
"Farming has another advantage because you will be your own boss. You can choose to do any type of farming that you want but at the end of the day, the bottom line is this — the more you work, the more you gain."
Sushil personifies his statement as he now sells vegetables directly to the Lautoka market on a daily basis and earns a minimum of $200 per day. He also has plans to diversify his 18-acre cane farm to a vegetable farm in the near future.
"My plans are to use my 18-acre land, which was given to me by my grandfather and also where I used to plant before for vegetable farming, as I hope to build a reservoir there for the planting of more vegetables."
He not only supports his family through farming but also employs two labourers on his farm, one on a full-time basis and the other as a part-time worker, whose assistance is only required as he has his whole family tilling the land alongside him.
"I have three children who also help me in the farm and in the market to sell vegetables during the school holidays and most of the time, my wife comes and helps me on the farm," he said.
Sushil's struggle and devotion towards farming from an early age have enabled him to achieve all that he dreamt of, from the purchase of a family car, a tractor and more importantly the construction of his own humble abode which he can call his own.
The Ministry of Agriculture further bolstered his achievements by playing a vital role in providing assistance, support and technical expertise to pave his path to being a successful farmer.
"Government assisted me with a borehole, nursery materials for my farm and a reservoir," he said.
"The assistance really benefited us because from it, I have managed to grow and progress with my farm since I used to fetch water from the small creek beside my farm which was very difficult especially during long dry spells.
"Now with the assistance and the help from the Ministry of Agriculture, it is a relief for my family and me as water supply is readily available for us at all times and the days of drawing water from the creek is all but over," he shared.
"If you work hard then you should have no problems. My advice to farmers is to continue to work hard and you will achieve whatever you want but if you're not committed, you will not be able to achieve what you want in life and fail."
Ultimately, that was Sushil's drive, who from a very young age believed he could achieve his goals through hard work and dedication and he never faltered, a lesson worth learning for all who aspire to succeed.
* Kunal Deo ia an employee of the Ministry of Agriculture.