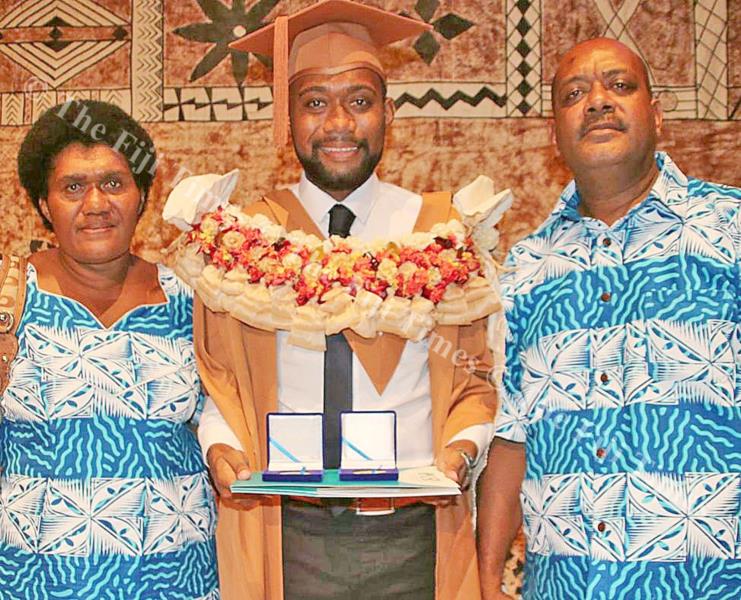 THE main fuel that drives him to success is having the goal of becoming someone in life.
Ratu Tevita Rarokolutu says he wants to be someone that his parents can be proud of, someone that his siblings can lean on for support and someone who is ready to assist the greater extended family and friends of his home community and the vanua.
The 25-year-old who hails from Nabena, Matailobau in Naitasiri with maternal links to Naisisili in Yasawa received two gold medals while graduating with a Bachelor of Arts Degree and Graduate Certificate in Education with double majors in geography and history from the University of the South Pacific last week.
"Having that goal at the back of my mind and deeply embedded in my being, I always continue to progress further, onwards and upwards. So what drove me to success is setting the right priorities that are achievable with the given support, resources and time," Ratu Tevita said.
The eldest of four siblings, Ratu Tevita who received two gold medals in education and history said the program was for four years with a total of 31 units for secondary school teaching.
He is now pursuing his Masters Degree under the University Graduate Assistant Scholarship with FSTE, Faculty of Science Technology and Environment.
"I did not initially plan to be a gold medallist when I first started at USP but as I progressed with good results, I was challenged to aim for the education gold medal. Fortunately, the good Lord decided to grant me with two and it's a privilege to be the first gold medal recipient of Nabena, Naitasiri and Naisisili, Yasawa," Ratu Tevita said.
The former head boy of Nasinu Muslim College said apart from being a normal student at USP, he was actively involved in both learning and extra-curriculum activities of the university.
"In 2014, I represented the university as an exchange student to Victoria University, Wellington New Zealand to study for a semester. I also represented the university as well to cultural exchange tours to Japan under the JENESYS Scheme and to Korea. Aside from this I was also the president of the School of Education Students Association, a student mentor assisting students with their assignments and learning at the FALE — Faculty of Arts Law and Education Student Learning Support Centre and a volunteer with USP campus life organised events such as the orientation weeks, health and careers week," he said.
Ratu Tevita said despite all this engagements, his goal always fuelled his passion to study, following his timetable well, actively attending and participating in tutorials and lectures, seeking assistance from his lecturers and tutors when he didn't understand a concept, being committed and basically living a balanced life with family and friends.
He, however, encountered the greatest challenge when he almost lost his life twice in two separate incidents.
"I was bedridden on two separate occasions. When both my parents were praying for me by my bedside, all I could see was my dad's struggle in being the sole breadwinner for the family and my mum who has kept the family together through thick and thin.
"I asked God 'please give me one more chance'. Today, I thank him for granting me another chance to reward my parents one more time," he said.
Ratu Tevita said his biggest career inspiration was to complete his Masters Degree before pursuing his doctoral studies (PhD) either in Fiji or at an international university.
"What may stop me from achieving these aspirations are poor time management, procrastination and lastly, losing the passion and the much needed concentration towards the completion of the goal."
He attributed his success to his parents, who are his greatest inspiration.
"Earning just enough to make ends meet and not being able to attend university, I told them I will attend university and make you both proud," he said.
He said the three things he was most confident for in his role as a research student was being confident and passionate about his research interest.
"Having the best mentoring and support from my principal and associate supervisors and having the support of my lectures, friends, families and the vanua with the hope to one day contribute back to the development of society.
"My lecturers at USP are the person(s) that inspire me to becoming a better person in life."
"I would also like to specially thank my mum and dad for their support and guidance to my life and (uncle) ta levu Sivo and (aunty) Ema and the Naicovitabua family of Cunningham who have been supporting me financially all throughout my academic journey from primary to tertiary. Vinaka saka vakalevu. To the senior pastor and members of the church; Lighthouse Christian Centre, Narere; to my Nabena family in Suva and to everyone in the village, to my momo and family from Naisisili Yasawa and my university friends and family. Vinaka saka vakalevu for being a helping hand to my life, this gold is for all of you."
Ratu Tevita's advice to young people, school dropouts, young children and to those that are from broken, unfortunate and single parent families is to never give up on their dreams, set their goals and priorities right and realistically and most importantly always appreciate what they have.
"Whether is it big or small, more or less, use them to the best of your abilities, you will surely become movers and shakers of our communities and our beloved Fiji."
Five important values that Ratu Tevita
holds dear to his heart:
1My faith in God who is the main source for my strength and life, if it wasn't for him, I would have not been where I am today.
2Respect for elders & family — I have learnt that elders and family and parents are our gods on Earth and if we treat them with the highest respect we will ultimately achieve our goals through their blessings and grace.
3Dedication and commitment — This is one key important value; when we have the dedication towards our goals, commitment will follow suit in the mission to achieving our goals.
4Helping other in their times of need — One value I cherish the most is assisting people when they need a hand and for the past 4 years I have assisted my university friends in their assignment and exams and it is a value that I cherish the most
5 Being humble — No matter how high we may go and achieve in life, we should never forget our humble beginnings and who we really are.