Defence personnel undergo fitness training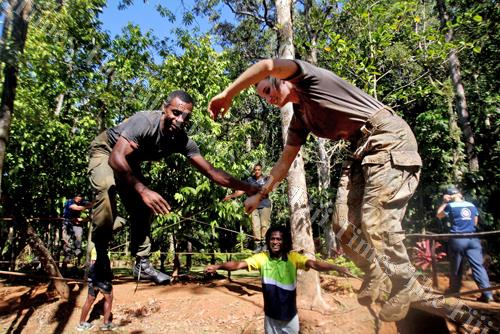 TWENTY-TWO defence personnel from the region have been chosen to take part in a month-long special training program which began at the Fiji Police Academy in Nasova, Suva, yesterday. The Pacific Physical Training Instructor Course (PPTIC) is being co-hosted between the New Zealand Defence Force (NZDF) and the Republic of Fiji Military Forces (RFMF) in a bid to train respective forces in physical fitness.
While addressing the participants at the launch, New Zealand High Commissioner to Fiji Jonathan Curr said the purpose of the PPTIC was to help build a fitter and healthier Pacific forces.
"The training includes members of the police and military forces. This is a mixed force, mixed rank and mixed gender course and is the first of its kind to be undertaken in the region," Mr Curr said.
"Health, fitness and wellbeing is of course important to the forces. However, beyond your police and military duties, you will become role models in your wider communities when you return home."
Acting Police Commissioner Rusiate Tudravu said the training had come at a perfect time for the force. Fiji is represented by seven participants of whom two are from the Fiji Police Force.