Cooking up a storm
23 October, 2018, 10:52 am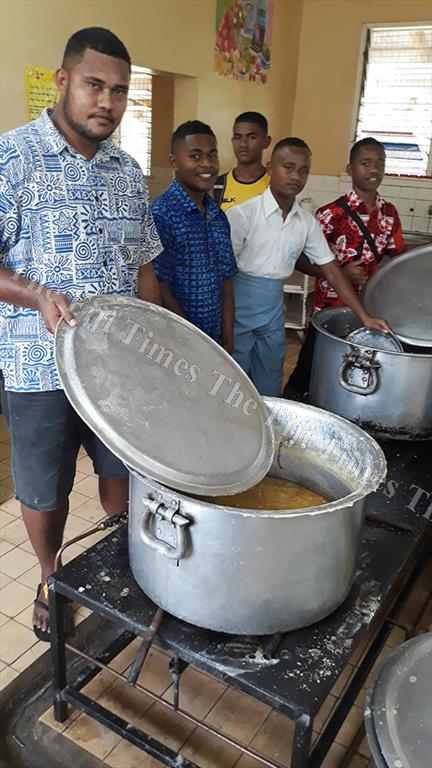 When Savenaca Tuikilakila left school one of the things he battled with was choosing the right vocation.
With a few certificates in cookery, he hoped for an opportunity to work in a hotel.
But destiny had a mind of its own.
Today, the Lovonivonu villager is the man behind hearty meals at Taveuni's only government school — Bucalevu Secondary School.
He has never regretted swapping his dreams of joining the tourism industry with the choice of cooking at a boarding school.
Savenaca attended Taveuni's Holy Cross College and Niusawa Methodist High School during his secondary school years so the thought of working at Bucalevu was not a popular choice at first.
"Initially, I was sceptical because I was not an ex-student of the school but I've stuck around for six years now and I actually enjoy my job," he said.
"I have four boys at home so I treat students of the school like my own children.
When I wake up early in the morning to boil hot water or cut bread I do so wholeheartedly as if I am preparing breakfast for my own children."
Having 195 boarding students under his care is not an easy task. Savenaca prepares 585 meals per day, which translates to 1365 meals per week or 5460 meals a month.
"If you think of it, that is a lot of food to cook and apart from just having skills in cooking you also need to have a fair idea about nutrition, budgeting and menu planning," he said.
"If you over cook then you risk running out of food before the next ration arrives. If you do not manage your time, then meals won't be ready on time. If you do not understand about a growing child's nutritional needs then you may feed unhealthy meals to students.
"In my job you may sometimes feel like you are walking on a tight ripe knowing the lives and health needs of students fall squarely in your hand and if you are not careful you put their lives at risk."
Savenaca wakes up as early as 4am to ensure boarders have their most important meal of the day on time.
He is assisted every morning and afternoon by students who are rostered to help in the kitchen.
In a week, his kitchen prepares a variety of dishes including stews, curries and soups.
Fresh meat is served on Sundays, Wednesday and Mondays while on remaining days students are given vegetables and tinned beef or fish.
Making use of fertile land in the school boundary, the school plants a variety of root crops such as cassava and kumala and vegetables such as tomatoes, tubua and cabbages.
It raises cows, pigs and chickens too.
"To be a good school cook you must be professional and treat your job seriously. Food preparation is as important as making the right food choices. "Cooking is as important as teaching math or English.
I like my job and what gives me satisfaction is the knowledge that each meal I prepare gives students the energy they need for work and studies.
"Their parents send them to Bucalevu with the hope that they are well looked after, well taught and well fed. So my job, as far as meals are concerned, is to give them the best so that they feel and look their best."