Commitment and passion in the gloves
29 November, 2019, 3:00 pm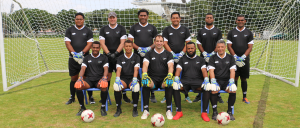 THE sole female representative at the OFC Goalkeeping Instructors course, Lice "Lido" Waqailiti calls on female goal keeper coaches in Oceania to step up.
The Fijians' commitment and passion for the gloves pays-off as she returns to her home country later this week as an accredited Goalkeeping Instructor.
As part its football development strategic plan 2019 – 2022, the Oceania Football Confederation is conducting a three-day Goalkeeping Instructor Course at the OFC Academy in Auckland between 26 and 28 November.
Led by OFC Goalkeeper Development Consultant James Bannatyne, the aim of the course is to arm the ten participating coaching instructors with the necessary tool that will help them to educate goalkeeping coaches back in their own member associations.
The OFC Goalkeeper Development Consultant believes there is plenty of room for improvement in the area of goalkeeping in Oceania and he is thrilled to provide the participants with both practical and theoretical knowledge that will help them when they return home.
"Exciting times to educate the coaching educators as we want to ensure they can go back to and coach the goalkeeping coaches," Bannatyne said.
"This is a big part in helping the MA representatives to go back with a toolkit that they can use to educate goalkeeping coaches in their own environment.
"Without the ten goalkeeping instructors who we have here it's very difficult to achieve our objectives.