Cancerous burden on Fijian leaders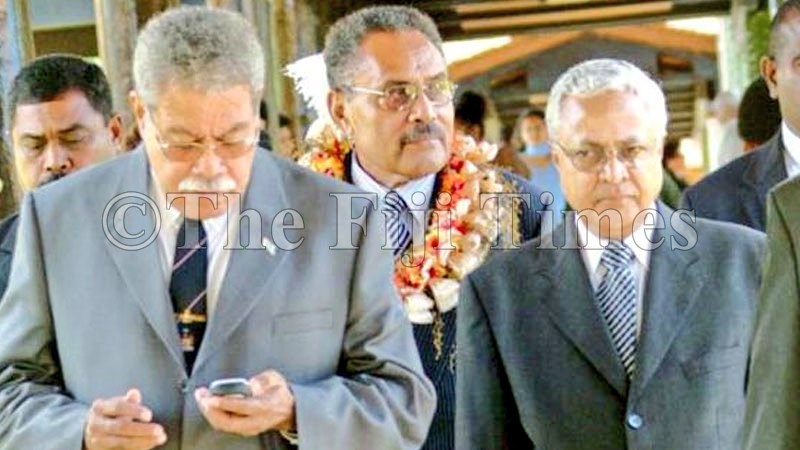 IN Part 1 of my article last week, following universal glowing tributes to the former prime minister the late Laisenia Qarase, I asked two "elephant in the room" questions:
first, why was he illegally removed from office, and
secondly, why was he not protected by the institutions of state, such as the military and police, or even the thousands of his followers?
What I found terribly sad on reflection was that similar experiences had been meted out to another Prime Minister (Mahendra Chaudhry) in 2000, and to the President of Fiji (the late Ratu Sir Kamisese Mara), who had served as the lawful Prime Minister for 17 years, after taking Fiji into Independence.
The common thread is that when these Fijian leaders (yes, of both ethnic groups) were in power, they had no shortage of followers and hangers on.
But the day they lost power, their followers were largely gone, except for a desolate and faithful few who never benefited from their leader's largesse.
While I refer to this phenomenon as the "cancerous" burden on Fijian leaders, I assure followers that the "cancer" is not in the leaders, but the followers themselves.
"They are the ones who need to do a lot of painful soul-searching to identify their own fundamental lack of accountability to their leaders.
"This is what  has been largely responsible for Fiji stumbling from crisis to crisis every decade, unable to build a nation based on honesty and integrity.
One symptom of this cancer is the failure of our citizens to not just abide by a lawful national constitution, but to defend it to the death from treasonous elements.
Let me start, chronologically with former prime ministers, the late Dr Bavadra, followed by Mahendra Chaudhry and the late Ratu Sir Kamisese Mara.
Dr Bavadra 1987
Dr Bavadra was lawfully elected prime minister in the 1987 elections under the Independence 1970 Constitution. He led the coalition of his Fiji Labour Party and the National Federation Party (led by Jai Ram Reddy).
But that government lasted for a mere one month before being overthrown by RFMF third in command, Sitiveni Rabuka. There had previously been demonstrations throughout the country, with organised arson and looting in the cities and towns.
Rabuka had the support of all the former Alliance government MPs as well as indigenous Fijian institutions such as the Great Council of Chiefs and the Methodist Church.
Many of those 1987 coup supporters and implementers have continued their powerful roles in Fiji to the current day.
Being the first coup in Fiji, there was widespread protest, from the mainly Indo-Fijian supporters of the government and USP academics, clerics and many civil society organisations.
There was much brutality against the protesters over several years, with some thrown into jail.
Probably the greatest disappointment for those that supported the lawfully elected government was that Her Majesty the Queen declined to give audience to her prime minister Bavadra.
This itself revealed the ugly side of Britain's selective support of the laws and governments of former British colonies which had still retained her as monarch with governors. There is much to be written about this strange aspect of British links with her former colonies.
With Fiji people now well aware of the brutal nature of military coups, the next coup did not generate the same level of protests from the public.
PM Mahendra Chaudhry (1999-2000)
Mahendra Chaudhry was elected Prime Minister in the 1999 elections under the 1997 Constitution. This Constitution had been unanimously passed by both Houses of Parliament and included laws requiring power to be shared.
For various reasons (which historians can debate), Mr Chaudhry did not include in his government the SVT party, which had qualified under the Constitution to be part of the government.
One consequence was that he could only serve for one year, after which a coup occurred, implemented by a small group of CRW soldiers with considerable other support.
While many popular accounts attribute the leadership of the coup to a civilian, George Speight, there are ample suspicions that there were coup plotters, collaborators and supporters in high places, including soldiers, policemen, chiefs, church ministers and politicians.
Whether there is any substance to these suspicions will be debated by historians till the cows come home.
But the sad reality is that when the RFMF regained control of the country and arrested some of those associated with the coup, they did not restore Mahendra Chaudhry's government.
The institutions of state who one expected to support a lawful government, elected under a lawful Constitution of the country – institutions such as the police, military and the judiciary –  eventually all failed to protect their elected prime minister.
But the second sad reality was that while Chaudhary and his associates were held hostage for 56 days, there was no widespread protest from the hundreds of thousands of his mostly Indo-Fijian followers.
I remember being there with another Indo-Fijian friend from the 1987 anti-coup protest days, watching the hundreds of 2000 coup supporters gathered at Draiba. I was astonished at one plucky Indo-Fijian journalist (and speech writer for Chaudhry), who loudly described to the dozen foreign journalists present, that the coup supporters were unemployed rabble and villagers.
One can understand however that the FLP's largely Indo-Fijian supporters were not keen on any physical confrontation with the lawless coup supporters. Even my friend and I were advised by one of them who recognised me, to retreat "for our own safety".
The third sad reality is that many of Chaudhry's corporate backers, who supported him when he was prime minister, also quickly disappeared from view once Chaudhry was removed from office.
Fighter that he was, and despite twice being removed from government (1987 and 2000) Chaudry contested the 2001 and 2006 elections  under the same 1997 Constitution, but never returned as prime minister.
Many of his erstwhile supporters, having witnessed the failure of the institutions of state to protect their prime minister during the 2000 coup, judiciously backed other horses thereafter – horses who were more guaranteed to hold power. However, that guarantee also later failed Mr Qarase, an indigenous Fijian leader.
Ratu Sir Kamisese Mara
The late Ratu Sir Kamisese Mara was a giant who led Fiji into Independence in 1970 and ran the country for 17 years, until the FLP/NFP defeated his Alliance party in 1987.
He would have had many fascinating stories about his many "close corporate friends" and other socialites who suddenly disappeared from his side, when he lost power in 1987.
Some reappeared when he became interim prime minister following the 1987 coup by Rabuka and eventually when he became president of Fiji.
Then came the horror story (or should I say stories) of the 2000 coup supposedly conducted by a small group of CRW soldiers.
During that coup, astonishingly, live rounds were fired at the President's house in Nasese while he was there.
Some very powerful individuals in Fiji asked the President to "step down" allegedly so that he could be "protected" from the coup rabble.
How utterly extraordinary that despite Ratu Sir Kamisese Mara being the president of Fiji and the Commander in Chief of the RFMF, he could not be protected by the mighty RFMF and Fiji Police Force, from an allegedly small group of CRW soldiers.
How utterly devastating must the president have felt that allegedly for his own safety, he had to be evacuated by boat to his island in Lau.
Academics and historians can explore to their hearts' delight the many explanations about the coups within the 2000 coup, such as the tensions between mainland versus islands tensions, or military ambitions and so on.
But the fact remains, four out of the five lawful prime ministers that Fiji has had since independence (Bavadra, Ratu Sir Kamisese Mara, Mahendra Chaudhry and the late Laisenia Qarase), were failed by the institutions of state (military, police, judiciary) whose fundamental duty it was to protect them and uphold their authority.
Sadly as well, their hundreds of thousands of followers who were there by their side during the good times, also largely disappeared when their leaders left the corridors of power, except for forlorn groups, most of whom never benefited from their leaders' largesse.
Sitiveni Rabuka
While I have referred to the above leaders, similar fates also befell other political giants who "lost" at various elections, such as Sitiveni Rabuka and Jai Ram Reddy, underlining the terrible cancer at the heart of Fiji's politics and society.
PM Rabuka was an incredibly powerful person before the 1999 elections. He had no shortage of "friends" from the corporate world, the civil service and statutory bodies and the general public.
I was an Opposition (NFP) member of Parliament during the 1996-1999 when SVT and NFP co-operated to pass the 1997 Constitution and we were cooperating during the elections campaigns.
I remember being invited by prime minister Rabuka to play golf with him at the Fiji Golf Club at Vatuwaqa.
I turned up the usual half an hour before our agreed tee off time, but could not get close to him, as he was surrounded chock-a-block by dozens of his hangers-on all clamouring to play with him.  I gave up and let him play on.
A few weeks later the counting in the 1999 Elections was in progress and it was clear that the NFP was going to be wiped out and that SVT would not be forming government.  I found myself again at the Fiji Golf Club where Sitiveni Rabuka was about to tee off, all alone.
He asked me to join him, and during the round I was amazed to hear him on the phone humbly offer his services, in any portfolio, to the soon to be elected prime minister (under the multi-party government rules).
Rabuka's and SVT's offer in 1999 to be a junior partner in the FLP led government was not accepted (supposedly because of extreme conditions demanded by one SVT MP who shall remain unnamed) and the rest is history.
Thereafter, Rabuka and I met many times on the golf course and elsewhere, without any of the former hordes around him. He once sadly related to me that the hardest thing for him to cope with was "going from hero to zero". Rabuka is now back on the national stage as Leader of the Opposition SODELPA, with his fascinating story still being written as you read this.
Jai Ram Reddy
Even though he never became prime minister, Jai Ram Reddy was a giant in Fiji politics, regardless of the petty internal politics of NFP's then Dove and Flower factions.
He also faced the poisoned chalice, when the elected 1987 FLP/NFP Coalition Government (of which he was named Attorney General) was removed by Rabuka's coup of 1987.
The institutions of state (RFMF, the Police, the judiciary) all failed that lawful Government – as did the Queen who refused to see prime minister Bavadra.
Even though a biased 1990 Constitution and electoral system was imposed on Fiji, Jai Ram Reddy as NFP's Leader of the Opposition patiently negotiated with Rabuka and the governing SVT.
He brought about the consensus for the 1997 Constitution, passed by both the Lower and Upper Houses of the Fiji Parliament and hence the last legal constitution.
Before the 1999 elections Jai Ram Reddy did not lack for invitations to give public addresses from powerful organisations, or even from corporate friends to accompany him on his morning walks on the Lautoka seafront.
Unfortunately, Jai Ram Reddy and the entire NFP (including me) were wiped out in that 1999 elections.
The day he lost, the large majority of his corporate followers disappeared from view, one prominent one never to accompany him on his daily walks again.
A minor footnote to this history is that the same fate also befell his Shadow Finance Minister, who some in the corporate world had expected to be the Minister of Finance (or some economics minister) if an SVT/NFP Government had been formed after the 1999 Elections. Isa.
Where is the cancer?
In my previous article I had referred to the "cancerous burden on Fijian leaders".
Readers will of course demand to know, so where exactly is the cancer?
I can assure you that the cancer is definitely not in the leaders whose sad fate I have described above.
That cancer is in the institutions of state which have abjectly failed to defend their lawfully elected and appointed prime ministers and presidents. I leave that massive topic for now.
But the ultimate source of that cancer is deep in the hearts and minds of our people, the social and corporate leaders of Fiji, who have failed abjectly to defend their lawful leaders through thick and thin, while joining every illegal bandwagon.
Fiji's sad treatment of the late Laisenia Qarase is not an isolated phenomenon but a debilitating cancer that has eaten away at Fiji society for decades.
Sadly, this cancerous burden on our leaders will continue to prevent the creation of a true, honest and accountable democracy and a revered people's constitution.
Both of these should be defended to the death, and not turfed out through the barrel of a gun for nefarious objectives.
Dr Wadan Narsey is a former university professor, author, member of Parliament and long-standing commentator on current affairs in Fiji.  The views expressed in this article are not necessarily those of The Fiji Times.