Boys sharpen their 'swords'
23 September, 2023, 12:10 pm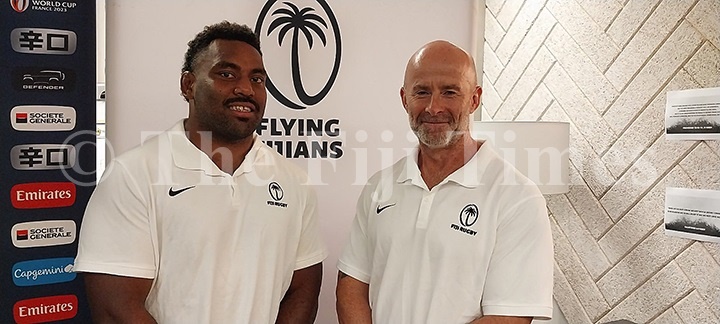 FIJI Water Flying Fijians prop Samuela Tawake was only 11 years old when Fiji famously beat Wales at Nantes in France in 2007 to qualify for the Rugby World Cup quarterfinals.
Flashbacks of celebrations in Fiji 16 years ago flooded the 27-year-old's memories following the Flying Fijians' victory over Australia this week.
Those celebrations were his first experiences of the RWC growing up.
"I was a very small boy when Fiji played Wales during 2007 world cup and watching videos of the recent win against Australia, I could remember myself doing the same thing when Fiji won the game against Wales. Running up and down the streets. It's unbelievable to see myself here," the Ovalau native said.
"It's been an experience of a lifetime. The world cup comes around every four years and I'm very fortunate to be a part of this great team with some very experienced players and some very young boys."
Yet to make his world cup debut, Tawake said he was learning a lot from the senior players in the side, and chance to perfect his skills for a call-up into the starting 23.
"(There's been) very, very strong competition, not only in the front row but all the positions. Everyone is up and ready when given the opportunity and the chance (to play) so I think the competition is very strong. Anyone in the 33-member squad can start if given the opportunity.
"At the moment I'm just focusing on myself, my prep; the things that I want to work on every day whether it's scrummaging, tackling or rucks. I've used this time to sort of sharpen the sword I guess. This is basically what me and other players that haven't had the opportunity yet are doing – we are also playing our roles in preparing the matchday 23."
He said one thing that stood out for him in the squad was the strong team bond which would remain with him for the rest of his life.
"The team theme that everyone is trying to get better for the guy next to you. You can see it in training when everyone's working on the tiny micro skills to help them offer the best that they can to the team. It's like family here and no matter your age or experience, everyone's ready to listen and help one another."
Fiji plays Georgia in it's next match on October 1.