Boy, 8, receives new wheels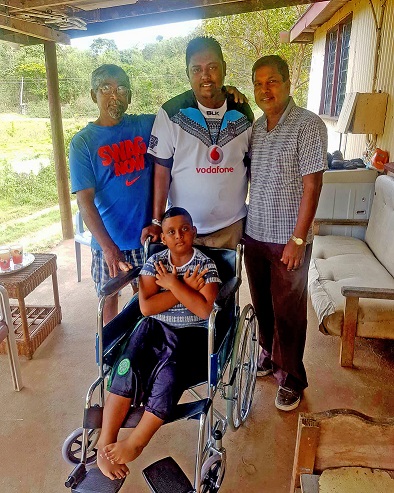 A GROUP of good Samaritans from Lautoka made an eight-year-old boy's dreams a little brighter when they gave a wheelchair at his home in Cuvu, Nadroga.
Ceshal Wadmalai Sewan, a Year 3 student of Naidovi Primary School, was born with a dislocated hip which prevented him from walking.
Deprived of a normal life, the energetic student could not hide his joy when the wheelchair was given by a local group called the Grog Masters.
His mother, Aruna Devi, said numerous visits to Shriners Hospital in Hawai'i could not fix Ceshal's problem.
"Our last visit to Honolulu was last year and they advised us that they could not carry out surgery on him yet," she said.
"They first reviewed him in 2012 and since then we've been trying to get any kind of medical help we can get."
She said the gift from the Lautoka-based group was timely.
"He uses a walker in school and tries to participate in most activities but he struggles. This wheelchair will help him a lot."
She added that despite Ceshal's condition, his future was still bright. "He wants to be an army officer.
Even though we find it difficult sometimes, we know that he is very smart and does well in school.
"With help from people like Grog Masters, we can give him the life that he wants. Nothing can stop him."