Boost for tourney
18 October, 2018, 11:56 am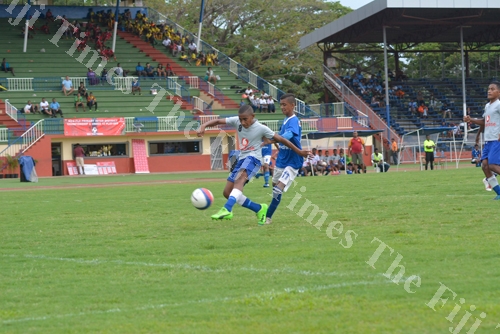 THE Fiji Football Association has promised to increase the funding for the Vodafone-sponsored Fiji Primary School Football Association (FPSFA) Inter District Championship next year with the addition of providing uniforms for all participating teams.
This was announced by Fiji Football Association president Rajesh Patel during the opening of the 43rd edition of the IDC which kicked off at Churchill Park in Lautoka yesterday.
According to Patel, the parent body had increased the funding for the event from $5000 to $25,000 this year. Patel said a lot had been requested by FPSFA president Dinamani Mudaliar from the parent body.
"We will increase the sponsorship for next year and what we will do is that we give the jerseys to all the participating teams," Patel stated.
"We at Fiji FA have decided that if Fiji has to succeed at the world stage then it has to start at this place, the under-12, U14 which is the primary school level.
"But we are also looking at the 'Just Play' program where the six to 12-year-old children participate. That's where the key development area is for us."
Fiji FA head coach Christophe Gamel and national technical director Ravinesh Kumar were present during the opening ceremony and will be watching out for talents to form an elite group that will be part of the 'Little Bula' program which will start next year.
Patel said the program would be fully funded by Fiji FA. "We will soon start the academy in Labasa," he said.
"We have already bought the land and the FIFA grant has been approved and we have got the tenders in to start the project. "We will be eyeing to select a Fiji team from this.
"Within two years I promise that these young players from the U14 level will be touring overseas.
"So that is the stepping stone for the young footballers to play better football. The national coach with the technical director will be looking at the talents and will be grooming the players for the tour in the next two years. The trip will be fully funded by Fiji FA."
Fiji FA has set a goal to qualify for the 2026 FIFA World Cup.
Patel said Vodafone had shown interest to renew its contract with Fiji FA as the current sponsorship deal draws to an end.
He said without their key sponsor Vodafone, tournaments would not have been possible.
"We allocate equally to the secondary schools and primary schools to make sure that the development of football and budding future stars of Fiji come on board," Patel said.
"Our mission 2026 is there for the FIFA World Cup. The elite players from this event will be gathered into an academy.
"Fiji FA with the help of the Government will make sure the economy, the development of the players and the sports in this country goes together.
"We are thankful to Government for the salary for the national coach is concerned. Without the help we would not have been able to get the expatriates that we need."