Boost for music festival
21 September, 2018, 9:49 am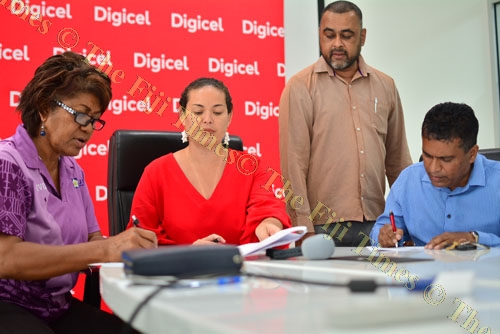 STRENGTHENING the importance of promoting local talent, Digicel Fiji signed a sponsorship with Procera Music Fiji to co-sponsor the 2018 Procera Music Carnival.
Digicel's head of consumer, Charlotte Taylor said Digicel was proud to co-sponsor and help grow Fiji's local talent.
"Once again we are delighted to announce our commitment as co-sponsorship for Procera Music Carnival.
"By supporting this event we will help enable Fijians to witness some of our great singers like Laisa, Peni Seniyasi and so many more.
"This week long carnival will bring in so many artists from around Fiji on to the stage, each night starting from this Saturday.
"Digicel does its best in promoting local artists and musicians, composers as we have more than a 150 local artists in our Digicel iTunes catalogue and also in our recently launched application d'music," Ms Taylor said.
Procera Music Fiji managing director Mohammed Akif shared his excitement, saying that the sponsorship is a reflection of its 11th year doing the carnival.
Meanwhile renowned local artist Laisa Vulakoro acknowledged the efforts by Procera Music Fiji in promoting and nurturing new local talent.