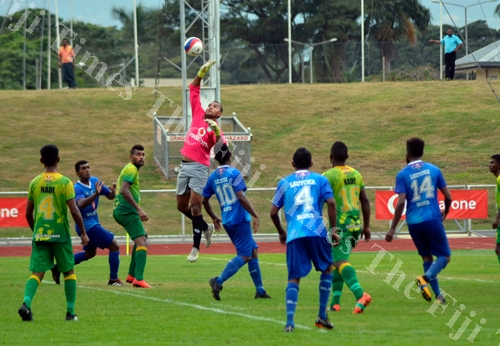 LAUTOKA maintained its unbeaten run in the Vodafone Premier League with a 3-2 come from behind victory against Nadi 3-2 at Churchill Park yesterday.
The Blues made a bright start with striker Samuela Drudru netting in the 14th minute.
However it was the lapse of concentration in defence which allowed the visitors to level and then take the advantage.
Napolioni Qasevakatini eqaulised in the 44th minute. Rusiate Matarerega put up Nadi 2-1 in the 71st minute after he bisected through two Lautoka defenders and slammed the ball past Benaminio Mateinaqara.
Swamy made crucial changes in the final 15 minutes taking out defender Ilaitia Tuilau and Drudru and replacing them with Mohammed Shazil and lanky Osea Vakatalesau.
The home team pushed up into attack and was rewarded with a penalty. Zibraaz Sahib sent Nadi goalkeeper Vereti Dickson the wrong way with his spot kick.
Shazil Ali slammed in the late winner following a free kick which was not cleared by the Nadi defence.
Swamy said his boys never lost hope despite conceding the second goal.
"In the first half we held more possession. The boys played until the last minute which is a good sign.
This sort of result can happen to any side. Nadi is a good team," he said.
Nadi Football Association president Javed Ahmed was unhappy with the control of the match officials.
Javed claimed the penalty decision against his side was wrong.
"We will wait to see the referees' assessors report," Ahmed said.
Meanwhile minnows Tavua and Ba played to a 3-all draw the VPL at Govind Park on Saturday.
The teams were locked 2-all at the break. Malakai Tiwa, Laisenia Raura and Manasa Nawakula scored for Ba while Vilive Naulalevu scored a brace for Tavua and Vilitati Kautoga got the third. Nadi: Vereti Dickson, Afraz Ali, Rusiate Matarerega, William Valentine, Christopher Kumar, Josevata Malakai, Iliotama Jese, Josevata Dugucagi, Napolioni Qasevakatini, Rupeni Rabici, Inia Boko. Lautoka: Benaminio Mateinaqara, Praneel Naidu, Zibraaz Sahib, Jone Vesikula, Dave Radrigai, Kavaia Rawaqa, Benjamin Totori, Epeli Rokotuva, Ilaitia Tuilau, Edward Justin, Samuela Drudru.