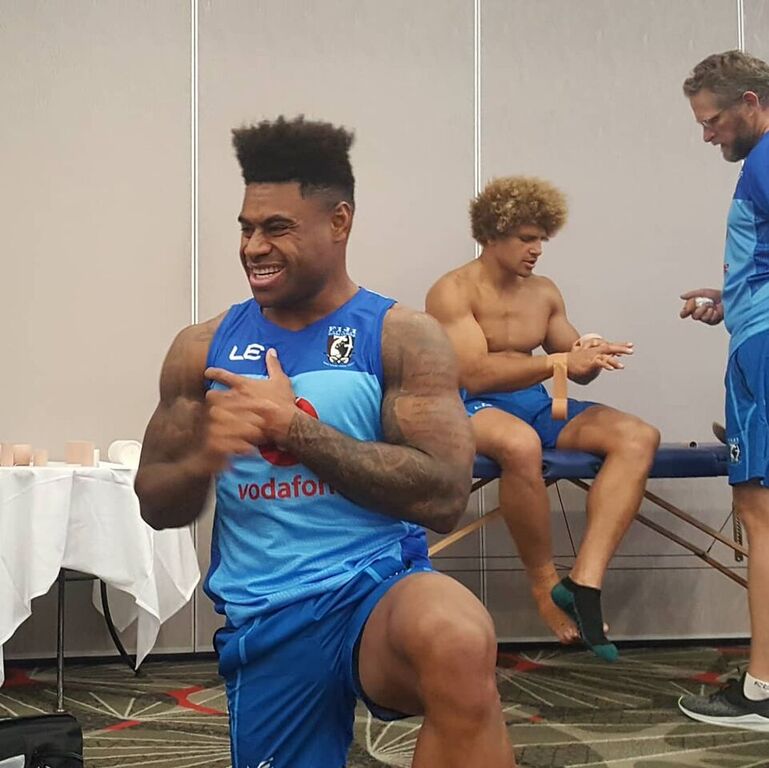 VODAFONE Fiji Bati interim coach Matthew Adamson has challenged his forward pack to stand their ground as Bati warriors when they take on Papua New Guinea in the 2018 Pacific Test match tomorrow.
"I have challenged our front pack and senior men such as Junior Roqica, Eloni Vunakece, Tui Kamikamica and Kane Evans to lead from the front and to stand their ground as Bati warriors," he said after a training session yesterday.
"Our structure which we have implemented allows our key personal to play 'eyes up' footy, this allows our players natural gifts to be on show.
"The team assembled really well on Monday and in their words nothing has changed since the World Cup.
"The players showed great unity and brotherhood upon their embrace when we all came into camp.
"The team had a day off yesterday and enjoyed a team meal. "We increased the tempo a little yesterday (Wednesday) in a hit out against Samoa which gave us a good indication of where the team is at," he said.
"Jarryd (Hayne) Henry (Raiwalui), Joe Lovodua and captain Kevin Naiqama who make up the spine of the Fiji Bati team will drive and execute these (natural talent) gifts."
Adamson said the middle third position on the field was where the outcome of the match would be determined.
"PNG will be tough as always the game will be won and lost through the middle third. It is important for Fiji to weather the storm and win this part of the arm wrestle," he said.
"A number of the younger players have been empowered to embrace a greater leadership role in the team, this is important to our squad and future as we want the Fiji Bati to improve.
"Preparation has been focused on enjoying the moment, our gym session and field session early in the week were low key learning structures and systems while enjoying the moment."
Vodafone Fiji Bati squad:
1. Kevin Naiqama 2. Suliasi Vunivalu 3. Akuila Uaye 4. Tyrone Phillips 5. Marcelo Montoya 6. Henry Raiwalu 7. Jarryd Hayne 8. Kane Evans 9. Joe Lovodua 10. Tui Kamikamica 11. King Vuniyayawa 12. Salesi Faingaa 13.Eloni Vunakece 14. Pio Seci 15. Siti Moceidreke. 16. Pio Sokobalavu 17. Junior Roqica 18. Mikaele Ravalawa