Australia looks to extend assistance to FijiFirst government: Feakes
21 November, 2018, 6:15 am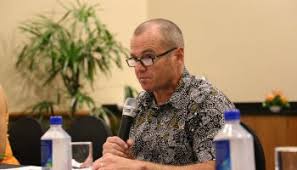 AUSTRALIAN High Commissioner to Fiji John Feakes says they are looking at extending their assistance to the FijiFirst government in the areas of defence.
The diplomat was among hundreds of distinguished invited guests at the swearing-in ceremony of FijiFirst party leader Voreqe Bainimarama to his second term as Prime Minister.
Mr Feakes said they were involved in the uplifting of Blackrock Peacekeeping and Humanitarian Assistance and Disaster Relief Camp in Nadi.
He said over the past years, Fijian military and navy personnel had worked closely with the Australian Defence Force in combating issues such as drug trafficking in the region.
"We are going to provide any assistance to the Fijian government if the need arises and we will continue to support them. Talks are currently underway for more assistance to Fiji through defence and other areas that will greatly benefit Fijians," Mr Feakes said.
"In the future, we are looking at extending our assistance in the defence area by taking more Fijian soldiers for training in Australia."