Athletics: Olympic hopeful Cheruiyot pushed by fellow Kenyan runner
30 November, 2019, 7:49 am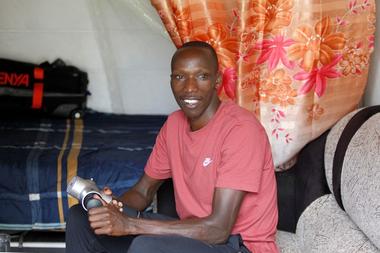 NAIROBI (Reuters) – When Kenyan runner Timothy Cheruiyot is sprinting to the finish at the world's top races he knows one man can stand between him and gold: his best friend.
The shy 24-year-old trains alongside fellow Kenyan Elijah Manangoi, 26, who was the 1,500 meters world champion until Cheruiyot took the title this year.
The pair's coach Bernard Ouma loves their "sibling rivalry", praising Manangoi's speed, Cheruiyot's endurance and their drive to outperform each other.
"Tim is working extra-hard to catch up with him. And this is putting Elijah on his toes – 'ah! This young boy should not catch up with me!'" said coach Ouma, channeling his elder protege.
Cheruiyot was already coming close by 2017, taking silver 38 seconds behind Manangoi at the 1,500 meters world championships.
"My toughest athlete (has been) my partner Manangoi … I love how he trains," Cheruiyot told Reuters at his training camp at the Rongai Athletics Club, located on the outskirts of Nairobi.
This year, Cheruiyot won the Diamond League trophy for the third time in a row and in October took his first 1,500 meters world championships gold in punishingly hot Doha.
The heat woke Cheruiyot at 5 a.m. on race day. He had hamstring tightness and was missing friend Manangoi, whose injury meant he was unable to defend his title.