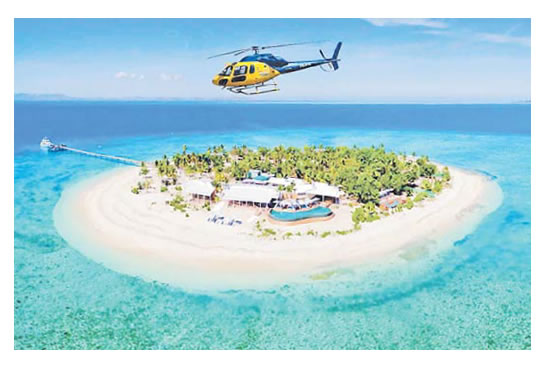 Heli-Tours Fiji is one of the four subsidiaries companies of the Joyce Aviation (Fiji) Group.
The other three companies, are Skydive Fiji, Sunflower Aviation and the Pacific Flying School.
These aviation companies are owned and operated by Tim and Susan Joyce.
Following the success and popularity of the adventure activities offered by Skydive Fiji, Tim and Susan saw a gap in the market for helicopter scenic tours and established Heli-Tours Fiji.
Heli-Tours Fiji, services range from offering scenic flights, customised tours, to private charters, resort transfers, commercial charters such as aerial survey, heavy lifting, aerial photography and filming, government and non-government organisations (NGO) disaster relief and superyacht support.
Apart from tours and charters, we are also fully equipped to provide medevac assistance with the installation of a medic stretcher to our AS355 helicopter and SAR operations. Whoever said 'hindsight is 2020' wasn't kidding.
There was no roadmap to this year, and no way to know if you'd done the right thing until you could look back on it.
We are truly grateful to our locals and local corporate and businesses that have engaged our services since COVID-19. Price range have been adjusted for locals.
What we offer are 'experiential products or activities' and those that wish to experience the thrill of being in a helicopter, will pay for that experience.
People often see helicopter flying above or in movies and magazines, so to be able to fly in one (which is often seen as a luxury offering) can be life changing for some people. Popular throughout the world for scenic tours, R44
Helicopters are not only sporty, economical and comfortable, but all passengers have a 100 per cent guarantee of a window seat. Sometimes, a change in perspective can be incredible.
It's that change in perspective that provides a different, beautiful view of cities/towns, mountains, islands and landscapes.