7s rugby and its impact on Fijians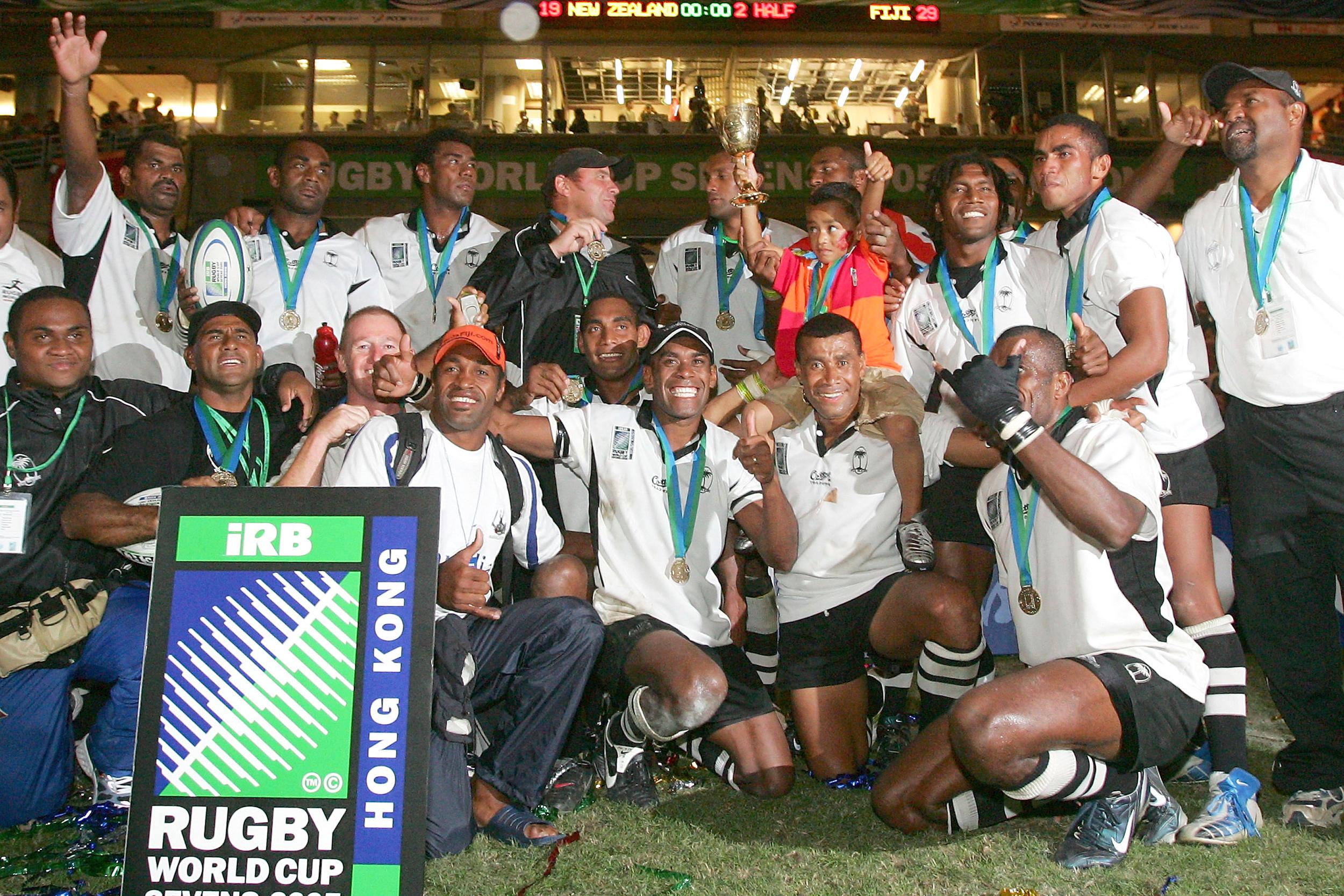 THERE is no other nation on earth where rugby 7s is as celebrated as it is in Fiji.
And the fearless gladiators who fight tooth and nail to secure a spot in the national representative sides are worshipped and admired forever by Fijians across the globe.
Rugby 7s is the heartbeat of our island nation.
The dazzling footwork, ball-handling skills and brilliant talent showcased by the Fijian players on rugby 7s paddocks continue to win hearts year after year.
How did we become the best?
Fiji's 7s dominance and prowess picked up in the early 1990s when it created history at the mecca of 7s.
This is after winning the Hong Kong 7s title for a record three consecutive years under the guidance of coach and 7s rugby mastermind, Ratu Kitione Tuibua (late).
It was also the same era when Fiji introduced the king of 7s, Waisale Serevi, to the world.
The 7s code was never the same from the moment the man christened 'Maestro' ran on to the field.
Perhaps what has surprised bigger rugby nations with huge budgets is how a tiny island nation with very limited resources, manages to churn out superstars every year.
For a small nation, Fiji has achieved a lot in 7s rugby compared to bigger and more professional rugby nations.
Fiji was the first team to win the Rugby World Cup Sevens on two occasions — 1997 and 2005.
Fiji is the first nation to win the gold medal in 7s rugby at the Rio Olympic Games in 2016.
This is apart from the 18 Hong Kong 7s wins, three HSBC World Rugby Sevens Series and many other wins in the past.
As we kick-off with our 2018 Rugby World Cup Sevens coverage, we will first refresh our rugby memories with the benchmarks set by our former and late Fijian rugby heroes who had played in the past six 7s world cups.
Below are the names of players who had represented the country, and their achievements in the past world cup appearances since the inception of the tournament in 1993.
1993 Rugby World Cup Sevens
(Scotland)
Coach Ratu Kitione Tuibua (late).
Players: Sakiasi Vonolagi, Vesi Rauluni (late), Mesake Rasari, Samisoni Rabaka, Waisale Serevi, Vili Rauluni, Filimoni Seru, Etonia Nadura, Penisoni Waki, Jone Vueti
Fiji lost to South Africa in the pool games before being bundled out by outright winner England in the semi-finals. The 1993 format was a tough one for all teams because they had to play two sets of round robin games.
In the first round of pool matches, Fiji lost one game and won four and later won all their three games in the second round of playoffs to meet England in the semi-finals.
Results: Fiji 40 – Romania 0, Fiji 28 – Japan 17, Fiji 40 – Romania 0, Fiji 21 – Wales 17, Fiji 19 – South Africa 26. Quarter-finals round robin results: Fiji 21 – Tonga 7, Fiji 14 – Samoa 12, Fiji 31 – Ireland 7. Semi-final: England 21 – Fiji 7.
1997 RWC Sevens
(Hong Kong)
Coach: Rupeni Ravonu (late)
Players: Aminiasi Natuiyaga (late), Luke Erenavula, Jope Tuikabe, Leveni Duvuduvukula, Lemeki Koroi, Waisale Serevi , Manasa Bari, Marika Vunibaka, Inoke Maraiwai (late), Taniela Qauqau.
This is the year when the country created history by winning its first ever Melrose Cup. Sevens legend Waisale Serevi, the lone survivor from the 1993 world cup team, led the side to win the world cup 7s at his favourite hunting ground.
Similar to the 1993 format, the 1997 program had two round robin matches — one during the pool games where Fiji was top seed and grouped with Wales and Namibia in the second pool to determine the quarter-finals lineup.
Fiji maintained its unbeaten run to win its quarter-final match against South Korea then beat Samoa 38-14 in the semi-finals and later defeated South Africa 24-21 in a nail-biting final.
Results: Pool games: Fiji 59 – Portugal 0, Fiji 45 – Hong Kong 0. Second round: Fiji 66 – 0 Namibia, Fiji 35 – Wales 0. Quarter-final: Fiji 56 – South Korea 0, semi-final: Fiji 38 – Samoa 14, final: Fiji 24 – South Africa 21.
2001 RWC Sevens
(Mar del Plata, Argentina)
Coach: Rupeni Ravonu (late).
Players: Waisale Serevi, Rupeni Caucau, Vilimoni Delasau, Marika Vunibaka, Fero Lasagavibau, Sailosi Naiteqe, Taniela Qauqau, Senirusi Rauqe, Jope Tuikabe, Josefa Uluivuda
Coach Ravonu retained four players from his 1997 world cup team in Serevi, Tuikabe, Vunibaka and Qauqau to defend the title.
The boys gave their best, but fell short in the semi-finals after losing to the Glen Ella-coached Australian side.
Australia, however, failed to maintain their winning form and was beaten by New Zealand in the final.
The New Zealand 7s team had players such as Eric Rush, Karl Te Nana, Jared Going, Amasio Raoma, Brad Flemming, Jonah Lomu (late), Mils Muliaina, Greg Newby and Roger Randle.
Fiji remained unbeaten in the pool stages beating Argentina, South Korea, Russia, Ireland and Kenya and then downed Canada 21-5 in the quarter-finals before being bundled out by the Aussies 22-14 in the semi-finals.
2005 RWC Sevens
(Hong Kong)
Coach: Wayne Pivac. Players Semisi Naevo, Apolosi Satala, Viliame Satala, Ifereimi Rawaqa, Jone Daunivucu, Waisale Serevi, Vilimoni Delasau, Marika Vunibaka, Nasoni Roko, William Ryder, Sireli Bobo, Neumi Nanuku
Sevens wizard Waisale Serevi again shouldered the responsibility of bringing back lost glory at the famous So Kon Po Stadium.
Laced with experienced players and three survivors (Serevi, Delasau, Vunibaka) from the 2001 world cup team, the side maintained its unbeaten pool game wins to become the first team to lift the Melrose Cup twice.
The side defeated Australia, Japan, Portugal, Canada and Hong Kong to top its pool.
Fiji then beat Argentina 22-14 in the quarter-finals and survived a 24-19 semi-final win over England where Serevi scored the winning try and snatched the Melrose Cup from New Zealand with a 29-19 win in the final.
2009 RWC Sevens
(Dubai)
Coach: Iliesa Tanivula
Players: Semisi Naevo, Apolosi Satala, Napolioni Nalaga, Seremaia Burotu, Pio Tuwai, Jone Daunivucu, Vereniki Goneva, Waisea Sukanaveta, Orisi Sareki, Vilimoni Delasau, Peni Rokodiva, Neumi Nanuku.
Despite having three survivors from the victorious 2005 world cup in Delasau, Apolosi Satala and Naevo, Fiji failed to produce the goods for the country.
Fiji was beaten by Kenya in the quarter-finals.
Surprisingly, all the other top guns such as New Zealand, England, Australia and South Africa also failed to reach the semi-finals.
Wales was crowned the new champions after beating Argentina 19-12 in the final.
2013 RWC Sevens
(Russia)
Fiji coach: Alivereti Dere
Players: Leone Nakarawa, Levani Botia Waisea Nayacalevu, Nemani Nagusa, Watisoni Votu, Joji Ragamate, Jasa Veremalua, Vereniki Goneva, Ilai Tinai, Alipate Ratini, Metuisela Talebula, Samisoni Viriviri
Fiji started the tournament strongly with a 45-0 thrashing over Tunisia and followed it up with another huge 47-0 win over Uruguay.
Fiji was humbled by the defending champion Wales 19-14 in their last pool game.
The national side bounced back with a 12-10 quarter-final win over South Africa before being beaten New Zealand 17-0 in the semi-finals.
New Zealand, with the services of four Fijian players; Lote Raikabula, Tomasi Cama Jr, Waisake Naholo and David Raikuna, went on to thrash England 33-0 in the final.
Fijiana 7s
2013 Women's RWC Sevens
(Russia)
Coach: Elenoa Kunatuba
Players: Elina Ratauluva, Siteri Drova Tabua, Litia Naiqato, Esiteri Rauca Bulikiobo, Viniana Naisaluwaki Riwai, Asinate Ufia Savu, Rusila Nagasau (c), Talica Vodo, Tavaita Rowati, Suliana Batirau Gusuivalu, Priscilla Sauvavi Siata, Luisa Tisolo
The Fijiana 7s team made its debut in the 2013 RWC Sevens in Russia.
Although the side failed to win any pool games, it later went on to win the bowl title beating Netherlands 12-10.
Fiji defeated South Africa and France in the quarter-finals and semi-finals respective to advance to the bowl final.
Results: Spain 14 – Fiji 14, USA 31 – Fiji 5, Brazil 17 – Fiji 14
Quarter-finals Fiji 22 – South Africa 5, semi-final: Fiji 12 – France 10, final Fiji 12 Netherlands
2018 WRC Sevens
(San Francisco)
Fiji Airways Fiji 7s team: Coach: Gareth Baber
Players: Jerry Tuwai, Semi Kunatani, Leone Nakarawa, Jasa Veremalua, Kalione Nasoko, Sevuloni Mocenacagi, Josua Vakurunabuli, Paula Dranisinukula, Apenisa Cakaubalavu, Amenoni Nasilasila, Vatemo Ravouvou, Josua Tuisova, Semi Radradra, Eroni Sau, Waisea Nacuqu, Alosio Naduva.
Fiji Airways Fijiana 7s
Coach: Iliesa Tanivula
Players: Ana Maria Roqica, Rusila Nagasau, Asinate Savu, Viniana Riwai, Pricilla Siata, Luisa Tuisolo, Miriama Naiobasali, Mereula Toroki, Rejieli Daveua, Ana Maria Naimasi, Tima Ravisa, Merewai Cumu.
Now the hopes of the nation lie on the shoulders of Fiji Airways national 7s coach Gareth Baber and his gladiators to bring back home our lost rugby jewel which has evaded us after two 7s world cups.
And with only nine days to go, fans have been urged by our gladiators through the request of Rio Olympics Fiji 7s gold medallist, Jasa Veremalua calling on Fijians around to globe to support the team in their prayers
Go Fiji go.
*This 2018 Rugby World Cup Sevens build-up coverage is brought to you by Dove Men+Care and Fiji Gas.