50 years of lyricist
8 November, 2018, 9:28 am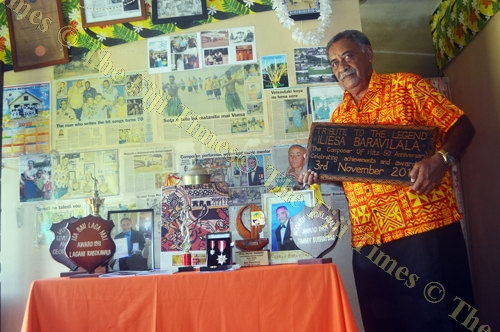 SONGwriters never stop composing.
Every moment, every breath, every heartbeat is another opportunity to worship the Creator, says iTaukei music icon Iliesa Baravilala.
Last Saturday, the prolific composer marked 50 years of song-writing during a modest celebration at the Returned Service's League Hotel in Lautoka.
Master (as he is more fondly known) has written more than 500 songs over the past half century and forged the careers of 20 artists and groups.
From the very first group he formed in Sawaieke, Gau in 1968 right through to composing 10 new songs for local music diva Elena this year Baravilala shows no sign of slowing down.
"I was teaching in Sawaieke and used to go around the different villages and was amazed at the amount of talent there, they all had music groups and they were all very good," the 72-year-old Batavia resident shared.
"So I formed my first group there in 1968 called Dawadawa Serenaders.
"Music is my life, it has always been the best way I could express myself and the best way I can pass on significant moments in Fiji's history to future generations."
While Baravilala's musical journey began in Sawaieke, his recording career began in Vuma, Ovalau in 1969, where he has maternal links. It was here that he formed Kalokalocavu Ni Koromakawa, the group that gave Fiji and the world the vocal talent of Jimmy Subhaydas.
During his golden jubilee celebration, Baravilala was paid a visit by close friend Allen Lockington.
"I joined the Koromakawa Social Club in Levuka in the '80s that he had started," Lockington said.
"We used to meet every Friday to sing, have a basin of yaqona and just socialise. "I got to meet the many people Master had groomed including Lagani Rabukawaqa and Jimmy Subhaydas who had become household names in the iTaukei music industry back then.
Lagani Rabukawaqa and Jimmy Subhaydas are two that I met.
"I would often see him muttering to himself and often wondered if he was OK.
"And then he would say that he had received a message to write a song for someone and he was going through the motions of writing it — in his head.
"Then he would put pen to paper and in a few minutes a song would be written.
"There are many popular Fijian songs played on radio that have been remixed and sung by singers and many don't know that Master wrote them."
Baravilala's songs have launched the careers of many over the past 50 years and brought fame and fortune to artists more recently.
Last year he was awarded the Order of Fiji where Government acknowledged his community work — concerts he had organised over the years to raise funds for churches and communities across the country.
The Fiji Performing Rights Association also bestowed him with the Outstanding Contribution to Music Award last year.
Allen Lockington, like many others, believes that Baravilala should be recognised for his contribution to local music by an annual event that bears his name.
Whether that happens or not, one thing we can be assured of is the fact that Master will continue to give us memorable songs for as long he we are blessed with him.