4 awards for resort
23 November, 2018, 9:30 am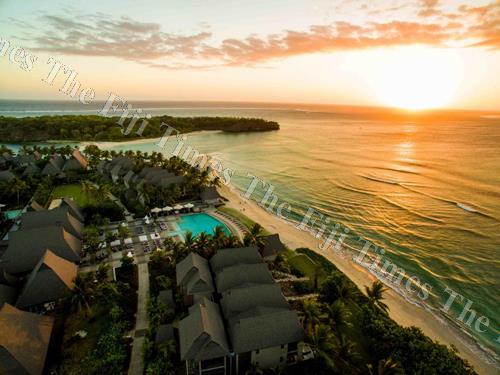 BEING crowned as Fiji's Best Beach Resort, Fiji's Best Golf Resort, Fiji's Best Resort Spa and Fiji's Best Destination Wedding Retreat at the 2018 Haute Grandeur Global Awards is a recognition to the team's efforts in delivering exceptional service to its guests.
InterContinental Fiji Golf Resort & Spa was honoured with the awards at the renowned 2018 Haute Grandeur Global Awards gala ceremony hosted on November 1, 2018 at Palazzo Versace Dubai.
"The Fiji Islands is a unique destination that celebrates stunning natural scenery both on land and underwater complemented by warm Fijian culture and a Pacific tropical climate to offer a destinational experience.
"From a young age, all Fijians are ingrained with hospitality that is gentle and overflowing, which makes us one of the best destinations for travellers — be it for couples or families," said Andrew Davidson, area general South Pacific at the InterContinental Fiji.
"We have a dedicated culture of service, 'Global Etiquette', which we deliver at InterContinental Fiji and is how we want our service to be known and remembered in the hearts and minds of our guests.
"This international standard is supported by the IHG True Hospitality service behaviours; True Attitude, True Listening, True Confidence, and True Responsiveness, which combine seamlessly with Fijian hospitality to offer a high level of excellence which is warm and thoughtful.
"We are honoured to have been crowned with four luxury awards this year by Haute Grandeur. These awards are a fantastic achievement and recognition to the team's efforts in delivering 'Great Hotels Guests Love' by going above and beyond to create memorable moments on our iconic location on one of the world's best beaches — Natadola Bay," said Mr Davidson.
He said the Haute Grandeur Global Awards celebrated the pinnacle of the best hospitality experience, recognising the world's most exceptional hotels, spas and restaurants and was synonymous with status, luxury and acclaim.
The awards which were launched in 2014, provides travellers with a trusted source of award-winning properties to choose from when booking their holidays or business trips and are now in their fourth year.
Recipients of these awards are reputed to be the best in travel experiences in the travel industry.
These awards celebrate the very best in hotel experiences across seven continents, 172 countries and 90 unique categories on a global, continent and country level.
The Awards are decided with a unique process by gathering only quality guest feedback to continue raising the bar of excellence in service delivery and promising guests the best hotel experience.