2018 General Elections: FijiFirst takes care of our children, says Ledua
20 October, 2018, 1:25 pm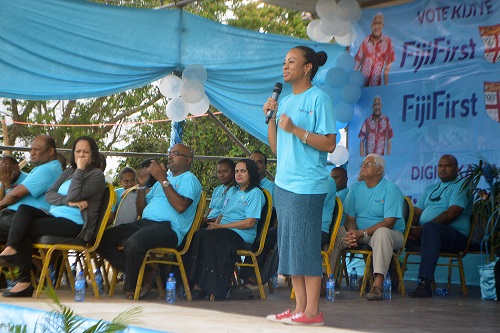 FIJIFIRST has taken care of our children and we would like this to continue.
This was the message from FijiFirst candidate Ateca Ledua during the party's family fun day in Sigatoka yesterday.
She said she thoroughly enjoyed being on television and speaking to the many children over her 15-year career as a host on Get Set.
"The values shared on the show were simply loving one another, respecting each other, being fair to one another despite where you came from, your ethnicity and whatever your background is," Ms Ledua said.
She said she was led to join FijiFirst because they embodied the same values and principles shared through the show.
"I feel passionately about children and FijiFirst has taken care of our kids. They have taken care of my children and I'm sure a lot of us can testify to that."
Party candidates will be at Koroivolu Park in Nadi this afternoon.