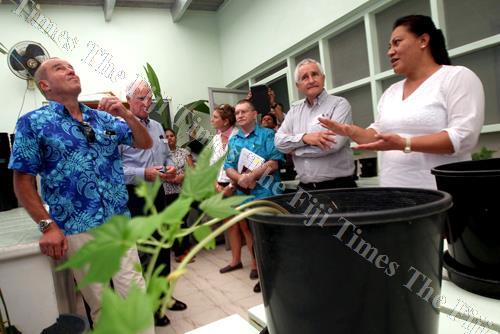 THE Pacific Community (SPC) and the Australian Centre for International Agricultural Research (ACIAR) yesterday signed a strategic partnership agreement for 2018-2021.
The agreement, backed by a $A1.7 million ($F2.7m) commitment by ACIAR, sets the stage for accelerating agricultural research across the region.
SPC deptuy director general Dr Audrey Aumua said they recognised ACIAR as a scientific partner.
"SPC really recognises that ACIAR what I would call a key scientific partner both as an agricultural research broker but also as an institution that has accompanied SPC on its journey to develop its own capacity around science innovation," Dr Aumua said.
ACIAR's chief executive Professor Andrew Campbell said the agreement was of importance and that tackling these issues should be addressed as a region.
"It's a very important agreement for us working with SPC is crucial for us in the Pacific and that has been the case for more than 30 years and will hopefully be the case in a long time to come.
"Many of the issues that we're facing here in the Pacific make much more sense for us to tackle regionally than country by country."
Dr Aumua said the partnership would advance the relationship between SPC and ACIAR to another level.
"This particular relationship will help SPC expand its capabilities particularly for the Land Resources Division and also our FAME Division which is our Fisheries, Aqua culture and Marine Ecosystem work which is carried out in Noumea and these are two very key areas of mutual synergy for both SPC and ACIAR," she said.